Post by Jazz on Mar 10, 2015 12:18:59 GMT -5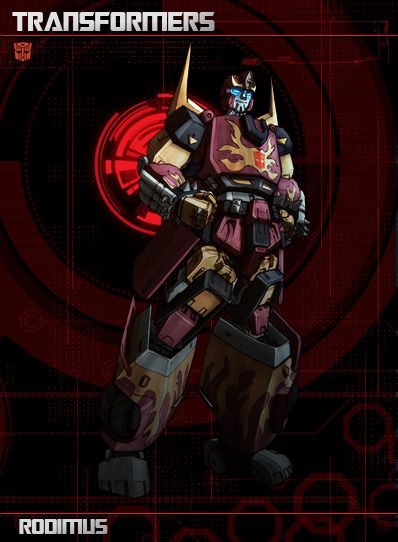 ---
Rodimus (Formerly Hot Rod) ::
"My actions speak louder then words!"
Allegiance ::
Autobot (formerly Decepticon)
Sub Group ::
Rodimus Fan Club (President)
Function ::
Warrior
Size ::
Soldier (Average weight of 5 tons)
---
TECHNICAL SPECIFICATIONSStrength ::
6 (10 tons)
Intelligence ::
8
Speed ::
8 (300 mph)
Endurance ::
5 (Med. Melee, Projectile, and Elemental Damage Resistance; Low Energy Damage Resistance; Zero Explosive Damage Resistance)
Fighting Skill ::
6 ( Advanced Assault Combat Training)
Specialist Skill ::
6 (46 points)
Rank ::
2
Courage ::
9
---
PROFILEBiography ::
Headstrong, brash, over-confident, ego-driven, slightly conceited and self-centred. These are the words best used to describe Rodimus. However you may never heard this being said about him due to the heroic bravery he exhibits, the kindness and loyalty he shows to his peers, comrades and friends, and due to the fact that be it skill or blind luck, he can pull of what he says he's going to do. Rodimus loves excitement and the trill of adventure and the unknown. And he operates well when put on the spot. He can just as well carry out whatever plan has been laid out, but he's not one for following the rules so the best plans can sometimes change along the way. There is nothing out there that Rodimus fears, he's just too stubborn to admit that it can't be done so long as he's the one who's been challenged. Even the pressures of leadership don't seem to wear him down, unless it's one of the more senior officers lecturing him on how to do it. Its not that Rodimus doesn't believe that things shouldn't go by the book, he'd just rather write his own edition.
History ::
Rodimus used to known as Hot Rod, the Decepticon. There was a time when the very young Hot Rod didn't know any better and hadn't developed into a mature mech. Before joining the Decepticons, Hot Rod used to enjoy life with no cares or responsibilities t hold him down. It wasn't until he faced too many rules that he felt that he was being held back by a society he felt had no right to tell him what to do with his life. So he joined the Decepticons. After seeing first hand what the Decepticons were actually doing, Hot Rod realized he made a mistake. Fulled with guilt, Hot Rod wanted to make a change. He left the Decepticons, changed his name to Rodimus and joined the Autobots. But it would seem that fate decided that Rodimus would serve the Decepticons after all when Rodimus was captured by Megatron, who used his body to create the Vehicon army.
Robotic & Alternate Forms ::
Rodimus is a daring fighter. He'll shoot first and ask questions later and then maybe ask how cool he looked while doing it. He might have just above average strength and average endurance, he's a skilled warrior who can throw off an opponents balance easily. Rodimus is so sincere when he speaks that he has been known to inspired others, making him an effective leader and field officer. He's a good Autobot to have on your side in a fire fight.
Weakness ::
Rodimus can bite off more then he can chew since he often over-estimates the situation. His pride won't allow him to turn to other for help until it's too late.
---
WEAPONS/SPECIAL ABILITIES/EQUIPMENTPrimary WeaponEnergon Battle Pistol
Semi-auto heavy pistol with a 5x scope
Damage: 6, Range: 8, Accuracy: 8, Rate of Fire: 5, Damage Type: Projectile
Heavy WeaponEnergon Battle Pistol
Semi-auto heavy pistol with a 5x scope
Damage: 6, Range: 8, Accuracy: 8, Rate of Fire: 5, Damage Type: Projectile
Alternate Form WeaponMitachyon Repeaters
For Minicons, Minibots, Soldiers, Destroyers and Leaders. Limit of 3 clips each containing 320 bullets.
Damage: 6 Range 5: Accuracy: 5 Rate of Fire: 7, Damage Type: Projectile
Grenades/Ammo/Attachments/Equipment/AbilitiesCompressed Air Boosters
Stored in the legs, used only in robot mode to increase a Transformers jumping capabilities or to simply dash out of harms way.
(Automatic on all characters)
Vehicle Hover Mode
When in vehicle mode and not traveling at top speed, a character may hover about whether they are a car, tank, jet or helicopter.
(Automatic on all characters)
Dual Primary
Allows the character to carry and use two of their chosen primary weapon. Restrictions: No special ammo or attachments.
(6 points)
Glider Wings
Used in robot mode, wings carry Transformer across the sky, gliding on the wind with a small rocket booster to assist. Not faster then most flight capable Transformers. Best for smaller Transformers due to lighter weight.
(1 points)
Road Spikes
Used for land-based vehicles, while in vehicle mode spikes are released from behind to rip up the purser's tires. Good for escapes.
(2 points)
---
_End Data Feed.