Post by Jazz on Feb 27, 2015 11:15:23 GMT -5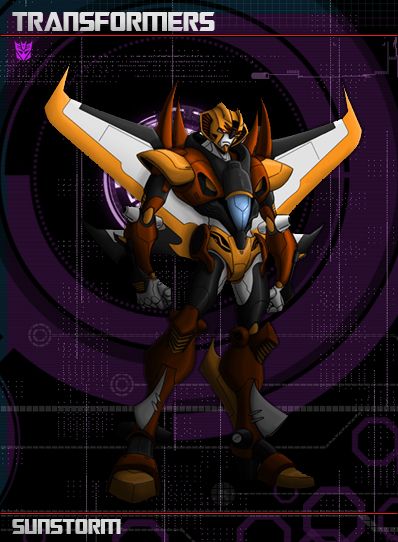 ---
Name ::
" I am the vessel anointed to carry forth the original light, that which has no beginning and no end."
Allegiance ::
Decepticons
Sub Group ::
Seekers
Function ::
Air Commander
Size ::
Seeker (Average Weight of 15 tons)
---
TECHNICAL SPECIFICATIONSStrength ::
7 (13 tons)
Intelligence ::
7
Speed ::
8 (Mach 4.5 = 3422 mph)
Endurance ::
5 (Med. Melee, Projectile, and Elemental Damage Resistance; Low Energy Damage Resistance; Zero Explosive Damage Resistance)
Agility ::
6
Fighting Skill ::
7 (Basic Mixed Martial Arts Training)
Specialist Skill ::
6 (46 pts)
Rank ::
7
Courage ::
10
---
PROFILEBiography ::
Sunstorm is a religious zealot, consumed by his beliefs. Sunstorm is convinced he is a vessel for none other then the dark god Unicron. Sunstorm speaks with a cryptic tone and a holier then thou attitude with gets on everyone's last circuit nerve. If Sunstorm isn't heard quoting some passage from an ancient cult scripture then he is informing others how they will rot in the great Void for there lack of devotion to the Decepticons. Sunstorm believes he is acting out Unicron's will there for he feel justified in all his actions being they are in fact Unicron's own. Those around him think Sunstorm has a few bolts loose in the head area. While his fellow Seekers think he's crazy, none will call him on it based on there fear of Sunstorm's wrath.
History ::
All Seekers under go body reconstruction before they join the ranks of the Decepticon airforce. Soon afterwards they are trained and given a function to serve based on their abilities. Sunstorm was made air commander due to his focus and devotion to the Decepticon cause. Before the Seeker process Sunstorm was a small time criminal along side Ramjet. The two were known for over compensating on high octane energon before joining the Decepticons. During the process Sunstorm's internal structure was exposed to electronic anomalies. These anomalies produce a continual cascading effect in Sunstorm's primary fusion reactor, allowing it to operate at power levels that are far greater - and far more hazardous, causing massive radiation build ups. Sunstorm has kept these energy surges at bay for now by taking as many missions as he can to stay active. 
Robotic & Alternate Forms ::
Sunstorm fights with unbreakable focus and determination. When in robot form he will engage the enemy with cold concentration while using his words to beat down his opponent along with his fists and weapons. Sunstorm carries a Thermo Energon Blade which means he has to engage his enemies up close and personal. Unlike most Seekers, Sunstorm doesn't mind melee combat and is excellent at it. In the air Sunstorm will lead the battle with great zeal and with a fearless approach. He can reach speeds of Mach 4.5 (3422 mph) for a range of 4500 miles.
Weakness ::
Sunstorm has been known to suffer from internal radiation build ups, causing a great deal of damage to his inner workings. He believes this happens when he isn't trying hard enough to please the powers that be.
---
WEAPONS/SPECIAL ABILITIES/EQUIPMENTPrimary WeaponThermo Energon Blade
Power: 5, Damage Type: Elemental
Heavy WeaponSling Shock
Fires electrified bolas, which can ensnare and coil around its victim. Mounted on Shoulder.
Damage: 8, Range: 8, Accuracy: 8, Rate of Fire: 4, Damage Type: Elemental
Alternate Form WeaponHoming Rockets and Mitachyon Repeaters
For Airborne Characters. Limit of 4 small rockets for Drones, Aerialbots and Seekers and 6 rockets for Hunters, Predators and Dreadnaughts and 3 clips containing 300 bullets
Damage: 3 Range 5: Accuracy: 5 Rate of Fire: 7, Damage Type: Projectile
Damage: 7 Range 3: Accuracy: 7, Rate of Fire: 3, Damage Type: Explosive
Grenades/Ammo/Attachments/Equipment/AbilitiesEnergon Force Field
Deflects most energy attacks, stresses against heavier energy or explosive attacks. Has a time limit and range, can cover 2 other Soldier sized Transformers.
Endurance: 9
(2 points)
Shock Wave
Pushes enemies back and causes damage.
Damage: 6 Range 3: Accuracy: 6 Rate of Fire: 1, Damage Type: Elemental
(2 points)
Thermo Resistance Energy Shield
Hand held shield, good against Thermo powered weapons and firearms.
Endurance 7
(1 point)
Energon Transfer Field
At close range, character can generate a field that saps energy from another Transformer and transfers it to the character. Can stun or cause Stasis Lock depending on the amount of energy transferred.
(4 points)
---
_End Data Feed.