Post by Hoist on Jul 6, 2018 13:55:38 GMT -5
A great ancestor of Megatron using the same name, steals the Golden Disk which contains the location of all the major energy sources across the galaxy. The leader of the Maximals Optimals Primals and his Team of Maximals attempt to stop him but when a fight breaks out after travelling through time and Space they are both stranded on the planet. Over time, Primal tries to stop Megatron who also seeks to destroy the original Optimus Prime, still in stasis from when the Ark crashed many years earlier. Primal is successful and returns home with Megatron strapped to the Maximal ship, and return home. When the Maximals awake they find they were shot down in orbit of Cybertron, Megatron had somehow escaped and has now taken over. As they fight Megatron one last time to restore the sparks of the Maximals stolen by Megatron and put into New vehicon bodies for Megatron's army, they lose many friends along the way. This includes the Maximal Rhinox who was reformatted into the evil Vehicon Tankor.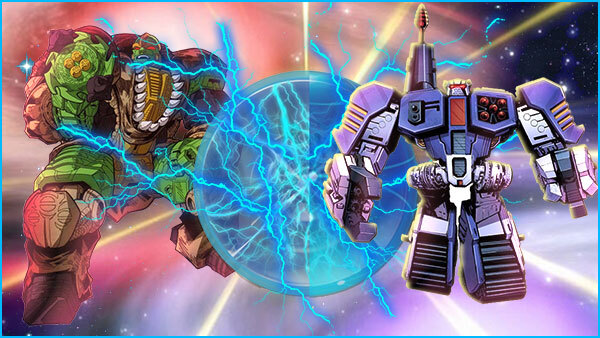 Nightshade and Ironfist are two ex-Autobot warriors and the protofrom brothers of Sideswipe and Sunstreaker on the run form the law as they try to simply made good on there own but seems to do nothing but get into trouble. (Lock, Stock and Two Smoking Blasters fanfic) The Autobot engineer Iceblaster volunteers for a top level space mission concerning stasis pod, he - along with the crew he was serving with; wind up on a strange planet. There he meets future Renegade Snap, a double agent also known as the Predacon Snapper. (Rainstorm's Beast Wars RP) During the new Beast Wars IceBlade is critically injured and impaled by a bulkhead on the trip back fleeing from the planet that turns out to be Unicron. The Autobot council deemed the mission a failure, and chastises the Maximal crew as criminals. After initially refusing to spare the energy on repairing lost Maximals, IceBlaster is eventually reformatted into Indelible, but the council have more to worry about then these Maximals they deem criminals as the threat of Unicron threatens Cybertron once more. (Undeveloped Beast Machines rp)

In another time-line, the Vehicon Heavyassault who had his revenge on Megatron; we find out that after leaves Cybertron (And/or that time-line) he had re-united with his old team consisting of Shadowstalker and Front-Line who Shadowstalker spent many years along side Heavyassault. Shadowstalker was there before the Fall of the Vechicon Empire and after.. During his time as a Space Pirate he fought along side Heavyassault. Terrorizing many ships till they came across the Vok, Shadowstalker wanted to attack but as Heavyassault was familiar with them, he concluded that his business with the Vok was done. They had other ideas however and thus sparked the Vok/Vehicon Empire war. Beaten, The Vok reprogrammed Shadowstalker, giving him half of a X-Spark.