Post by Jazzman Crothers on Feb 9, 2013 9:58:53 GMT -5
The Quintesson Hierarchy

Not much is known about the strange world of the Quintessons. Among the Cybertronians slaves that suffer under their rule, stories circulate through out and between the slave camps about the slave masters. While many tales are myth, what is understood that the cruel and often emotional-less Quintessons have a hierarchy of command and enforcement.


---


The Quintesson Judges

The Quintesson Judges rule Cybertron. From a mock throne of judgement they issue orders to those under their command from day to day. When the slaves come face to face with the Quintesson Judges, it often means they are soon to be facing some form of punishment and very likely their death. These Imperial Magistrates have inverted, egg-shaped bodies which float on a beam of energy and possess wiry tentacles for grappling and moving things, but their most distinctive physical characteristics are their five faces which rotate on an axis. Each face represents a different aspect of the Quintesson.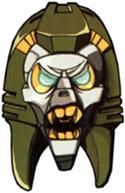 Death. The most frightful Quintesson face to encounter. When seeing this face most panic and give in to their fears as they know whats in store for them. The Supreme Quintesson Judge Lord Kendji, who is 1/3 bigger then all Quintesson Judges and who is the leader of the Quintesson race, often uses this face most of the time to exhibit his authority on others.




Wrath. Upon seeing this face most understand that a Judge is angry and full of rage, whether because an order wasn't fulfilled properly or someone has failed them. This face is often followed by the face of death. Judge Sevax is the Quintesson Judge who is known to be quick to anger and will often use this face. However he often tries to keep this emotion to himself as he is often put down for his quick temper that often effect his decision making. Sevax feels that none of the Judges listen to him or take him seriously and that he is better at the task at leadership then any Quintesson Judge.




War. When a Qunitesson Judge is planning for battle, the face of War is revealed. It is here that the Judge is at his most ruthless and will send his army into battle even if it means their death. Expect no mercy from a Judge when he is at war. Judge Brinn is a Quintesson Judge well known for using his War face most of the time. He is known to take on matters concerning on field battles and defence for the slave camp he is stationed in. He often sends orders to General Ghyrik to carry out.





Wisdom. The Quintesson Judges often confide with themselves when it comes to their plots and plans. It is here we see the face of Wisdom. This face is also see often when a slave is on trail and is being sized up. While not the most frightful face, Wisdom still casts a shadow of fear as it gazes on those on trail. Judge Deliberata is a Quintesson Judge well known for his well thought ideas. He is often called on for advice, even though it offends the egos of other judges.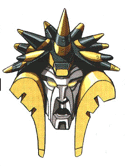 Judgement. When a Quintesson Judge is giving orders of a random nature, the face of Judgement is revealed. Not quite as extreme as the other faces such as War or Death, but it means that the Quintesson is calculating different tasks and other things to consider at incredible speed. Not much goes unnoticed by a Judge when this face is in use. The most feared Quintesson Judge is Judge Heirodyus. He has been known to sentence whole groups of slaves and put many though torture for his own personal entertainment.



---
The Quintesson Executioners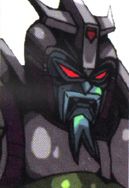 The Quintesson Executioners are the Military Generals of the Quintesson race. They have full authority to take command of the Quintesson forces and put anyone to death if they see fit. They do not travel by hovering as they have two legs to walk with and arms and hands. While not warriors, they are armed and can fight if they have to. Cruel and cunning leaders, they will stop at nothing to see they foe destroyed. They command the foot soldiers of the Quintesson army known as Alicons and the towering dark guardians known as the Omega Sentinels. The most famous Executioner is Supreme General Gryrik, head commander of all the generals and second only to the Quintesson Judges.


---
The Quintesson Prosecutors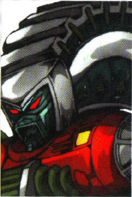 The Quintesson Prosecutors are the Quintesson field commanders when in battle and basically act as Overseer. They also supervise the Alicons to make sure that a general's orders are carried out. They travel by hovering like a Quintesson Judge and have 6 tentacles like the Judges as well but only one face. The best known Quintesson Prosecutor is Overseer Vashik. Vashik is infamous for he has his own agenda as he is a greedy Quintesson. Many know him as being manipulative and cowardly but he is effective at what he does, which has kept him alive and not yet put to death.


---
The Quintesson Scientists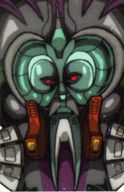 The Quintesson Scientists have been known to put slave though incredible amounts of pain and suffering. Many Quintesson scientists will even operate on their subject while they are still awake. Like the Judges, Quintesson scientists hover about and have 6 tentacles but only one face.The scientists are responsible for many of the Quintessons technology and their war devices. Two famous Quintesson scientists are Extempaxia and Al-Badur. Extempaxia is known for his logical approach to problems and cruel experimentations on slaves. Al-Badur is scientist who's ambition expand beyond the realm of science as he desires power. His time is often exploring and researching the mysterious powers of the planet Cybertron.



---


*Note: The Quintesson Judges, Prosecutors and Scientists all roughly share the same attributes when its comes to there tech specs. All the attributes of the Executioners are similar to General Gryrik's tech spec.